ADVERTISEMENT
CONTINUE READING BELOW
ADVERTISEMENT
CONTINUE READING BELOW
It has become a common practice in our society that the girls commit suicide after facing hard times in their families. Life becomes so challenging for them that the frustration and depression compel them to take away their own lives. The story of the married girls is fraught with a number of problems. On one hand, she has to fight the in-laws especially when they are not ready to accept her and on the there are her own parents who refuse to support their divorced daughter without thinking that it is better to have a divorced daughter rather than the dead one.
Amna Atiq Another Victim of Domestic Abuse:
Amna Atiq was a popular beauty blogger. She also owned the popular eyelashes brand Bonitaaz. The news of her untimely demise shocked her fans. The later reports mentioned that it was a case of suicide following the stress that arose out of the continuous depression. The law enforcement agencies are still looking for the right cause. The social media, on the other hand, is filled with the news that she actually committed suicide. The death was officially announced by her company Bonitaaz.
ADVERTISEMENT
CONTINUE READING BELOW
Soon after the news broke out, her close friends and those who knew her started sharing posts. The posts clearly mentioned that this was a case of domestic abuse. Her social media followers have seen her painful stories are very often. These stories told how she was treated by the two major males in her life being her husband and the father. When she decided to leave her husband her father threatened her of killing her.
The lesson to remember by Amna Atiq:
The entire story has one message for all of us and that is to listen to what they are saying. It is for Allah's sake if we help someone in pain. This will save them from grief and would prevent them from taking actions like committing suicide. The responsibility of parents is also manifold. They need to understand that their daughter is nature's blessing for them. She is someone very special. The parents cannot disown their daughters after getting married. If they share some grief or pain the parents need to deal with it seriously instead of asking them to compromise. This incidence has come up with a great message and that is to let the divorced daughter come to your home instead of receiving a dead daughter.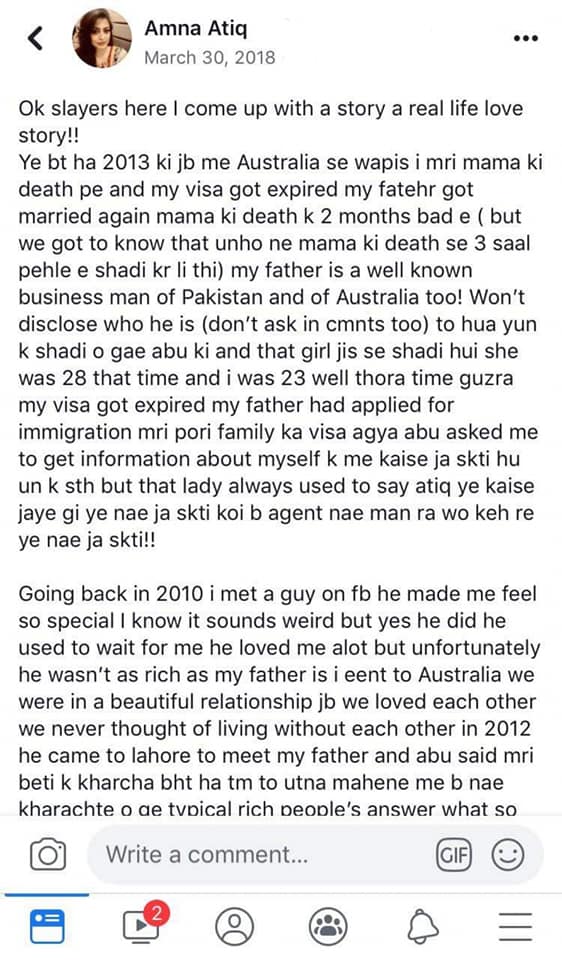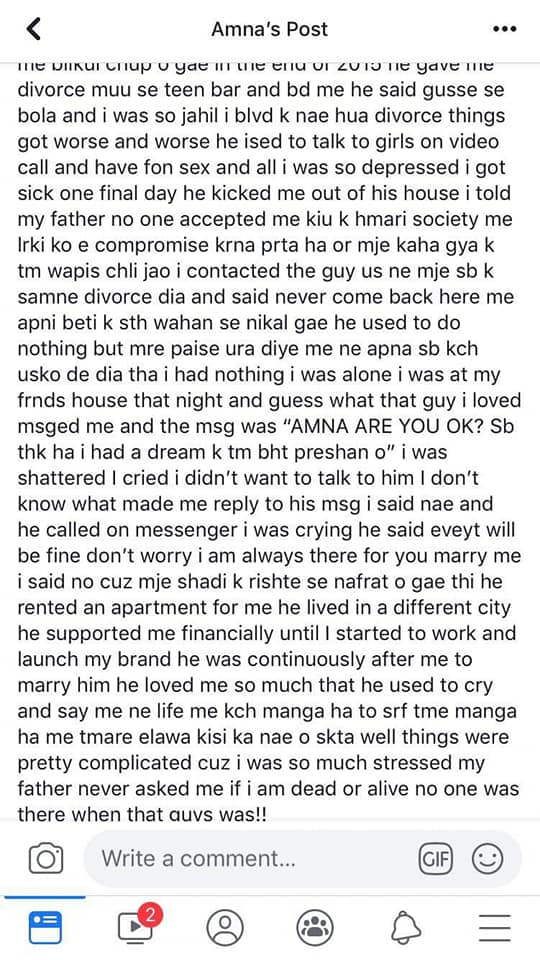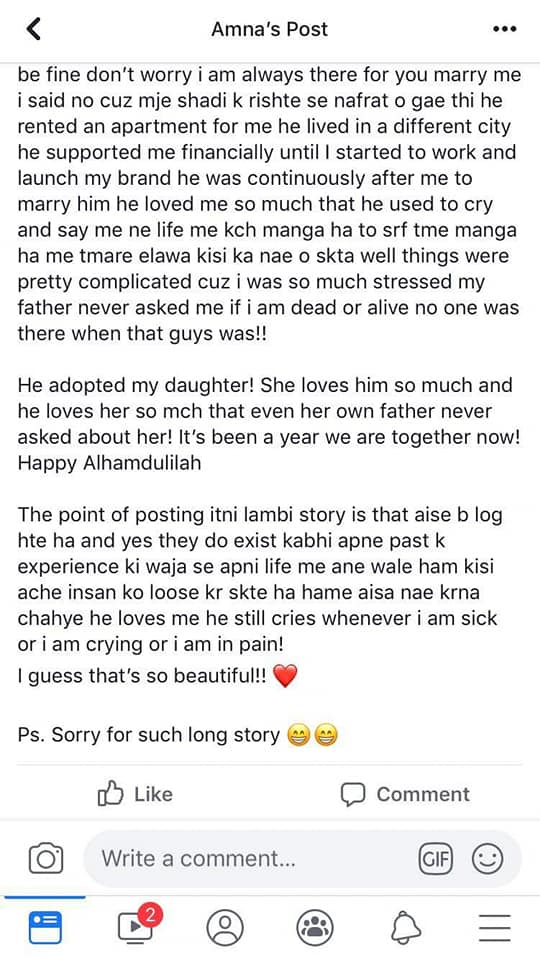 Amna Atiq Live Session Before Suicide:
Unfortunately in our country depression, psychological problems are not considered as disease that need to be cured.#AmnaAtiq

— Sheerin Umair (@sheenasoomro) September 19, 2019
*SHADIIIII*

SHADI KR LO BARI HOGAI HO
SHADI KR LO UMAR HO GAI HAI
SHADI KR LO UMAR BRH RAHI HAI
SHADI KR LO USKI HOGAI HAI
SHADI KR LO ACHY RISHTEY NAI MILEIN GY
SHADI KR LO LOAG KYA KAHEIN GY
YE LOAG HAIN KAUN "AP YA HUM" JO YE DECIDE KRTY HAIN K HUM KYA KREIN KYA NAI pic.twitter.com/Nma0bnPP8H

— IQrah 🌈🌈🔥🔥 (@Lostsoul_iQu) September 20, 2019
People should also realize the importance of mental health. If somebody is suffering from such things we need to help them instead of start bullying and make fun of their situation.#amnaatiq

— sehar ♥️ (@Psyco0_says) September 20, 2019
Murder of Fashion blogger #amnaatiq Watch the video and mood ho tu spread kardena video https://t.co/PPxYP9nyP1 @ImranKhanPTI

— Waqar Zaka (@ZakaWaqar) September 20, 2019
Dear parents if you decide to be cruel with your daughters comparing them with another one "successfully" surviving the abuse then you have to understand that not all humans (daughters) can endure the abuse. #amnaatiq

— ملیحہ (@MalihaAbbasi) September 20, 2019
https://twitter.com/whylookchup/status/1175191603864113152?ref_src=twsrc%5Etfw%7Ctwcamp%5Etweetembed%7Ctwterm%5E1175191603864113152&ref_url=https%3A%2F%2Fwww.mangobaaz.com%2Fbeauty-blogger-amna-atiq-taking-her-own-life-is-making-people-talk-about-mental-health-but-is-it-enough
Teach your daughters that it's OK to come home with a failed marriage than coming home in a COFFIN .
After listening to the news of death of beauty blogger Amna Atiq, my heart aches more than I can express in words. N this was what i said last day " beti Azeat hai " pic.twitter.com/QrTKnLbVQ7

— Aqsa (@AqsaChaudhry786) September 21, 2019
Another murder by our cruel society…
Amna Atiq, a beauty blogger, have committed suicide. It's not a natural death but a murder, actually. She died bcz of her husband's mental + physical torture and fathers apathy. Her husband took away her daughter. Depression took her life.💔 pic.twitter.com/c6Gxha2Efc

— ßushra Nasir Ahmed (@bushra_2010) September 19, 2019
Am still in shocked how heartless this society can be. R we humans? There is any humanity left in us?
Still in shock after knowing a talented mua #AmnaAtiq is no more.

Just ask your self kab tak?#justiceforamnaatiq pic.twitter.com/oXiJ1EVBgt

— Kinza Khushboo (@GlamorousGuilt) September 21, 2019
Blogger Amna Atiq has committed suicide. She came live on fb & told girls that she wants divorce from her abusive husband. Her father told her that he'll get her killed or put her in a mental asylum if she gets a divorce. It's not suicide, it's a MURDER. Our society killed her. pic.twitter.com/BGBeo4xxTj

— Komal Shahid (@ArmedWithWords) September 21, 2019